Read Dr. Mara's latest blog:
The Meaning of Life is in This Moment
"Joy is being willing for things to be as they are." ~ Charlotte Joko Beck
Every afternoon, at 3:15 p.m. Central Time, I have an appointment to meet my mom on Zoom. It's 4:15 p.m. where she is, on the East Coast, and timed to happen after she's gone to any activities going on in her building and visits with friends — and it's right before dinner.
There are days when I think, "I don't have time. I have so much to do." But, then I do it any way, scheduling my own work appointments, errands, and daily 4-mile walk, around this time. And, as soon as we connect, and I see her smile that I'm there, I know that I'm exactly where I'm supposed to be. Nothing else is as important.
     Keep reading HERE….
Today, this blog was also posted as number one on Sivana East!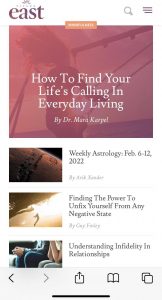 Check it out HERE!
You can read similar blogs by Dr. Mara and listen to her internet radio show. Now also on Apple Podcasts.  Check out Dr. Mara's internationally best-selling book, The Passionate Life: Creating Vitality & Joy at Any Age, now available on Audible!   And be sure to follow her on Facebook!