Missed the show?  It was great!  And you can hear it all right here!

And you can ALSO listen on Apple podcasts right HERE!
As we emerge from two years of a global pandemic, the world is anything but peaceful, with war in Ukraine (and wars around the world) and violent conflicts and mass shootings right here in the U.S.  
To help us find some peace within, so that we can bring peace into the world, Terry Hershey came back to the show to join us from Washington State.  Terry is a worldwide speaker, blogger, minister, and author of several books, including, This is The Life,  The Power of Pause, Sanctuary: Creating a Space for Grace in Your Life, and his latest book, written during the midst of the pandemic, Stand Still: Finding Balance When the World Turns Upside Down.  Terry is also the creator of Sabbath Moment, a weekly inspirational newsletter.  
You can find out more about Terry, order his books, subscribe to his Sabbath Moment newsletter, and take his FREE online courses all at:  TerryHershey.com.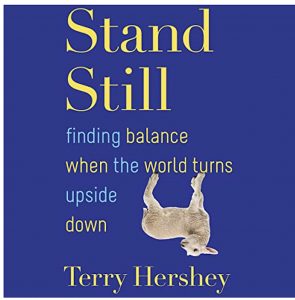 Also, Dr. Mara read the poetry about this moment in time by the first National Youth Poet Laureate, Amanda Gorman.
While we remember the fallen American soldiers on this Memorial Day weekend, we also dedicate today's show to the children and teachers of Robb Elementary School in Uvalde, Texas, and their families, the shoppers who lost their lives at the Top's grocery store in Buffalo, NY, and their families, and to the many lives lost in Ukraine and in wars around the world.
Listen to the podcast right HERE!  And on Apple podcasts right HERE!