Missed this awesome show?  You can hear it all right here!

Speaker, Counselor, Suicide Prevention Specialist, and Author of Make It To Midnight: Learning to Live When You Want To Die, Jim Denning returned to discuss preventing suicide during the holiday season.  Jim is a Licensed Professional Counselor and a Licensed Chemical Dependency Counselor.  He specializes in working with people of all ages who are struggling with anxiety, depression, addiction and those dealing with relationship issues. He uses traditional counseling techniques and current neurological research to offer a highly personalized approach tailored to each client.  And Jim can provide counseling long-distance via webcam!  He is also available for speaking engagements about suicide prevention.  Find out more about Jim and all of his services, as well as his book at:  MakeItToMidnight.org.  You can also join Jim's support group on Facebook.  Contact Jim Denning directly at:  Jim@makeittomidnight.org.  Jim's book is also available on Amazon.  Interested in learning more about Accelerated Resolution Therapy for PTSD?  Jim would be happy to tell you about it.  
Dr. Mara on one of the pillars of living The Passionate Life, GRATITUDE: the why and the how.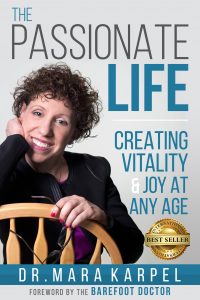 Listen to the podcast right HERE!