Missed the show?  You can hear the entire awesome show right here!

Health and Wellness Coach, Motivational Speaker, and Founder of Alaine's Transitional Coaching, Alaine Nolt, joined us once again from Colorado Springs.  This time, Alaine discussed coping with the stress of the holiday season and the holiday temptations to eat stress-inducing foods, such as sugar.  Alaine offers individual coaching no matter where you live, through Skype and phone..AND she's offering FREE coaching sessions thru the holiday season!  Contact her to find out more:  AlaineNolt@msn.com or thru Facebook and LinkedIn.  
Art Mendoza, of Accomplice Entertainment and producer of this program, told us about the acts coming to The Backstage of El Mercado at 1302 S 1st St, Austin, TX!  And he played some music! The next show is December 12!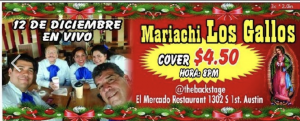 Find out more on Accomplice Entertainment's Facebook page!  
Also, Dr. Mara with a discussion of living a Passionate Life and coming back to our center over and over again to build resilience to stress, this time or any time of year.
Listen to the podcast right HERE!