Missed the program?  No problem!  You can hear the entire show right here!  It was awesome!

Licensed Acupuncturist, Eva Lu joined us to discuss the benefits of Face Yoga for smoother skin and for emotional relief, as well as to discuss how emotions are imprinted on our face and how we can benefit our mind, body, and soul through these techniques. Find out more about Face Yoga and how to work with Eva Lu by going to:  www.LaFloraisonWellness.com.  You can contact Eva directly:  e.lu.acupuncture@gmail.com.  And connect with Eva on Instagram:  BeatyFromCaliforniaToNice.
Austin jazz musician, Sharon Bourbonnais returned with some of her newest music. Sharon also told us about a video that she's working on of Next to Fall to combat homelessness and dedicated to HouseTheHomeless.org.  The video is set around Sharon's new song, "Next to Fall' about homelessness.  Sharon is working on recording a new CD, she's getting ready to host a showcase of Women in Music regularly at El Mercado in Austin, and she continues to play happy hour at the landmark Driskill Hotel on Mondays and at the Elephant Room on Fridays, both in downtown Austin.  Find Sharon's calendar, listen to and download her music and find out about how to be a patron of the arts and help Sharon in creating the video to combat homelessness, creating her videos, and more, by going to:  www.sharonbourbonnais.com and check out her Patreon page:  www.patreon.com/sharonbourbonnais.
And Dr. Mara with another sneak peek into her book, The Passionate Life: Creating Vitality & Joy at Any Age….And a discussion of some essential keys to more passionate living – more specifically, creating with compassion.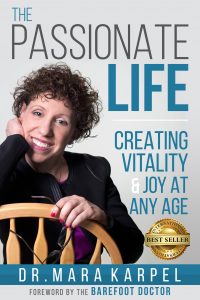 Listen to the podcast right HERE!