Missed the show?  We've got you covered! You can hear the podcast right here!  It was GREAT! 

Lauren Tarrant, RN, Co-founder of Well Beyond Care, joined us once again to follow up from last week tell us about Well Beyond Care, helping people choose their own caregivers for the best fit anywhere in the U.S.!  This week, Lauren let us know more about how Well Beyond Care is different than home care agencies, with unique ways of finding the perfect match of "care-pairs.'  This time, Lauren told us about how Well Beyond Care is unique in being able to help your loved one with medical needs, such as medication management, wound dressings, insulin, blood sugar tests, blood pressure tests, etc.  And how they meet the requirements (and create the needed paperwork) for reimbursement from Long Term Care insurance or Aid and Attendance. 
Find out more about this national company by going to:  www.WellBeyondCare.com.  Or call:  844-4WB-CARE.  You can also call Lauren directly:  512-809-4057.

Producer of this show and musician, Art Mendoza of Accomplice Entertainment, joined us to discuss his upcoming project and we played some music.  Accomplice Entertainment now has the second, fourth, and fifth (if there is one) Thursday of every month at the Backstage at El Mercado, on South First St. in Austin.  He is bringing in some of the best musicians to play…and he'll play some too!  This series of "Accomplice Entertainment Presents" kicks off with Tomas Ramirez, The Jazzmanian Devil, playing on October 10.   Show starts at 7:30 and goes until 9pm.  Cover charge is $4.50.  And you can come early and eat the great food of El Mercado.  October 24 is Bobby Mack Blues Band, November 7 is Lisa Marshall.  And this month, the fifth Thursday happens to be October 31, so Art and Tomas Ramirez, aka Generation Mex, will do a special Dias de los Muertos show!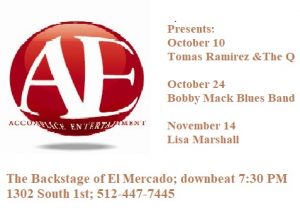 And Dr. Mara with more on the essential elements of living The Passionate Life.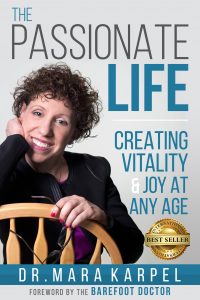 Listen to the podcast right HERE!