Missed the show?  It was GREAT!  No worries!  We've got you covered!  You can hear it all right here!!

Jay Schneider of Bridge to Shore Interventions and Sober Services, and Eric Button, of Vista Taos Renewal Center, joined Dr. Mara in our Austin studio to discuss addiction interventions, the purpose of intervening, what it looks like to intervene and about the important aspects of good, quality treatment for addiction. You can find out more about Bridge to Shore interventions at BridgetoShoreInterventions.com and about Vista Taos Renewal Center at VistaTaos.com!  Jay travels around the nation to help families with interventions.  You can contact Jay to find out more:  Bridge2Shore@gmail.com or 512-850-3090.  You can contact Eric about the treatment program at Vista Taos at:  EButton@VistaTaos.com or 512-419-8686.  And follow Eric on Facebook at:  Orange You Grateful!
Also, friend of the show and incredible guitarist, Betty Navas, joined us from Los Angeles to let us know about her new projects and we played some of her new music!  Betty's been playing around LA in an all women Led Zeppelin band, called Fem Zeppelin.  Also, she's been recording her original music and some of her songs have hit #1 on Number One Music!  Check out her music on NumberOneMusic.com/BettyNavas and on ReverbNation.com/BettyNavas. You can also watch videos, find out when she's performing, and more on her Instagram:  instagram.com/bettynavas1221.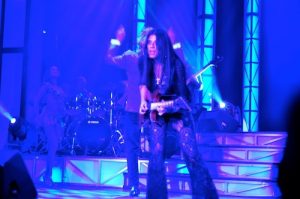 And Dr. Mara with another sneak peek into her book, The Passionate Life:  Creating Vitality & Joy at Any Age and a discussion about Getting Up and Back to Living a Passionate Life!
Listen to the podcast right HERE!