Missed the show?  It was awesome and you can hear it all right here!!
Kira Dineen, Communication Lead at My Gene Counsel, Host/Producer of DNA Today, & Student of Genetic Counseling at Sarah Lawrence College, joined us to discuss Genetic Counseling and how it can help us with our health!  Listen to Kira's radio show, DNA Today, to find out more about genetic counseling and all of the benefits:  DNApodcast.com.   Find DNA Today on Twitter and Instagram!
Brenda Cortez, kidney donor and author of several children's books about organ donation, kindness, and passion, joined us to discuss teaching children about organ donation.  Check out Brenda's Howl the Owl children's book series (all proceeds for purchase of the books goes to Donate Life America) and learn more about organ donation at:  HowlTheOwl.com.  Check out the Howl The Owl plush dolls, too!  Follow Howl The Owl on Facebook, Twitter, and Instagram.  
Also, we played the interview Dr. Mara did in person with Sergio Cordova of Team Brownsville, while he was volunteering at the Brownsville bus station, bringing humanity to the asylum seeking families just released from detention and waiting to travel to their sponsors.  You can find out more about Team Brownsville, donate, or volunteer to help at:  TeamBrownsville.org.
AND Dr. Mara with another sneak peek into her book, The Passionate Life: Creating Vitality & Joy at Any Age….and a discussion about staying centered in the midst of turmoil within and without!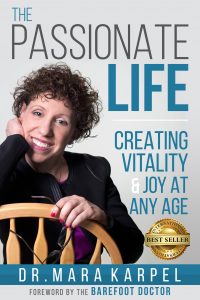 Listen to the podcast right HERE!