Missed the show?  You can hear it all right here!

Joining us from Pittsburgh, PA, author of Bring Your Strength, J. G. Boccella.  J.G's mission is encouraging men to bring their whole selves to the table –with their masculinity fully intact — to co-lead and co-create with strong women leaders. The results create a harmonious and profitable workplace, and a dynamic where they may be full partners in transformative leadership.  J. G. will discuss how men can fully support women in strong leadership roles, rather than seeing strong women as competition or a threat, and how this can be advantageous to everyone.  Find out more about J.G. and what's he's doing, contact J.G., and about how you can answer the invitation to Bring Your Strength at:  www.BringYourStrength.com!  You can also connect with J.G. on LinkedIn.
Mark Pines joined us from L.A. to discuss a website he created, Open Counseling, to help people find Free and Affordable counseling wherever they may live!  Check out what resources are near you, wherever you might be around the nation at:  www.OpenCounseling.com.
Renee and Jim Oliphant, the musical duo, Rag Top, joined us with some of their music.  RagTop has about 200 shows scheduled in the Virginia and the surrounding states for 2019!  Check out their calendar of shows and download their music from any of their 3 CD's at www.MyRagTop.com.  And stay tuned for another CD coming out by the end of the year!  
And Dr. Mara with a sneak peek into her book, The Passionate Life, and a discussion of the Power of Generosity and Giving without Expectation in order to live a more passionate life.  And thank you for the powerful kindness stories offered by Sarah Busby.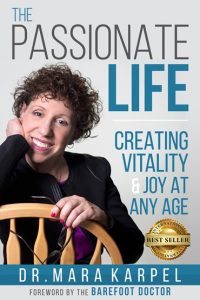 Listen to the podcast right HERE!