Missed the program?  We've got you covered!  You can hear it all right here!

Certified Health and Wellness Coach and Motivational Speaker and Founder of Alaine's Transitional Coaching, Alaine Nolt, joined us from Colorado Springs.  Find out about Alaine's Transitional Coaching and how to work with Alaine, no matter where you live and how old you are, to get on track toward a healthier lifestyle, by going to: AlaineNolt.com.  Also, follow Alaine's Transitional Coaching on Facebook.  You can directly contact Alaine:  AlaineNolt@msn.com.  
Frequent guest of the show, Jazz Pianist and Singer, Sharon Bourbonnais updated us on her latest projects and we played some of her new songs!  Sharon told us that she'll be part of Austin's SXSW, playing at the Elephant Room in downtown Austin on March 14.  You can also catch Sharon at the Elephant Room for Happy Hour on every 2nd and 4th Friday of the month and every other Monday at the Driskill Hotel in downtown Austin.  She'll be playing on South Padre Island on April 1, 3, and 4th.  And she'll be performing in Spain this summer!  Find out Sharon's whole calendar, download her music, watch her videos and more at:  SharonBourbonnais.com.  Become a patron of her musical projects patreon.com/sharonbourbonnais and follow Sharon on Facebook!
And Dr. Mara with a sneak peek into her book, The Passionate Life, with a discussion of How Realistic Optimism is Good for Your Health and For Staying on Your Path of The Passionate Life.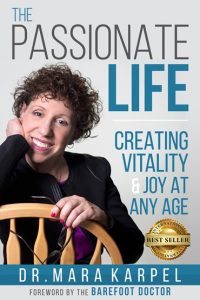 And MORE!
Listen to the podcast right HERE!
p.s.  Check out Dr. Mara's interview by Judy Maggio on KLRU, Austin's PBS, right HERE!