Missed the show??  It was GREAT!  AND you can hear it all right here:
Just in time for a very hectic and often stressful (and, for some people, even depressing) time of year, Beverly D. Flaxington, The Human Behavior Coach™, joined us to discuss her new book, "Self-Talk for a Calmer You" and how people can use positive self-talk to control anxiety and live a happier, more relaxed life.  It was a great discussion and Beverly gave some practical tips, including 3 steps to turn around anxiety-producing thoughts and immediately calm yourself.
Beverly Flaxington is a two-time bestselling and gold-award winning author. She is a corporate consultant and trainer, executive coach, successful entrepreneur, hypnotherapist and hypnosis trainer, college professor, motivational public speaker, and a certified behavioral-and-values analyst. Her work has been featured in hundreds of media outlets including, The Wall Street Journal, MSNBC.com, Reader's Digest, USA Today, and many others. She is also devoted to animal rescue!  
To find out more about Beverly's coaching, including career coaching to help you find your "bliss," and her self-help books and materials, including, "Self-Talk For a Calmer You," go to:  the-collaborative.com or  SelfTalkForACalmerYou.com.  Her latest book is also available at all major retailers.
Also, Laura Gelezunas reported in from the retirement paradise, Puerto Vallarta, MX, to let us know what's happening there, now that the winter visitors have all arrived!  According to Laura, the weather is beautiful and there are a lot of activities to enjoy, including many volunteer charity events to become involved with.  Check out what's happening in Vallarta for the American retirees right here: BanderasNews.com.  This on-line newspaper is updated daily!  Also, check out Laura's YouTube video-series, "Vallarta Life" and "Recipes and Real Estate" all right here: YouTube.com/User/TVPuertoVallarta.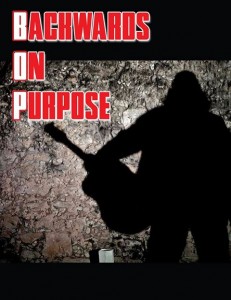 Musician, Producer, and Producer of THIS show, Art Mendoza of Accomplice Entertainment,  joined us on this side of the microphone to talk about his new musical play, "Backwards On Purpose" and we played a couple of his original songs from the play.  Find out more about this play and about how you can be part of the Kickstarter program (early in 2015), by going to: Facebook.com/Backwards-On-Purpose.
AND…Everyone is talking about it these days….what is PTSD??  I spent some time answering that question, as well as describing some of the symptoms.  Be sure to stay tuned for a future show totally devoted to PTSD.  
You can also listen to the podcast right:  HERE!