Missed the show?  We've got you covered!  You can hear it all right here!  It was AWESOME!

Clinical Psychologists and co-owners of Being Centered Psychological Services, Anna Huff, PhD and Teresa Reyes Castillo, PhD , joined us from NYC to discuss their new book, Awaken Love.  And they gave some suggestions about how we all can integrate our soul and intuition into our daily life for a more passionate and joyful live. 
Find out more about their psychological services at:  www. Being-Centered.com, soon to be renamed the Awaken Psyche Institute.  And you can purchase their book on Amazon!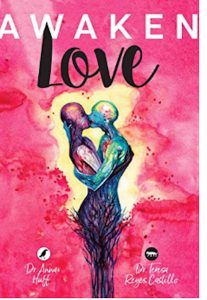 Richard Foster, Co-Founder of S & F Athletes, joined us from Irving, Texas.  S & F Athletes is a Non-Profit organization, mentoring children, ages 5 to 12, into become well-round individuals with a passion in education, technology, the arts, fitness, enhanced life skills, and health and wellness, by exposing these young children to a variety of learning experiences with volunteer experts that these children might not otherwise have had the opportunity to be part of.  This program is completely free, so it depends on donations to keep offering such great experiences. If you're interested in finding out more about the program, donating to it, or volunteering, you can check out their website:  SFAthletes.com and you can also contact Richard directly at:  RFoster@sfathletes.com.
Also, if you're in the Irving or Dallas area, you might want to check out the mixer, where you can network, as well as find out about S and F Athletes on April 26, 5:30-830pm!  The flyer is below, but you can also contact Richard for more info.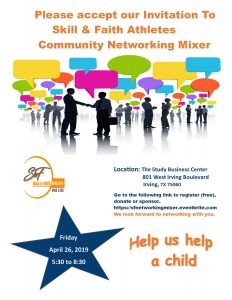 And Dr. Mara gave another sneak peek into her book, The Passionate Life: Creating Vitality & Joy at Any Age, with a discussion of the magical power of Generosity, one of her 4 pillars of Living a Passionate Life.  
You can read Dr. Mara's latest "mini"- blog, What Can You Let Go Of?, published today in Ariana Huffington's ThriveGlobal.com right HERE!
Listen to the podcast right HERE!