Dr. Mara's latest blog in Ariana Huffington's ThriveGlobal.com:
Read HERE!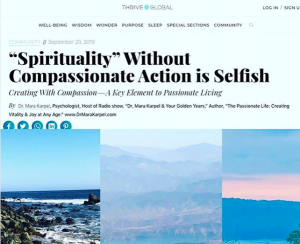 "Human suffering anywhere concerns men and women everywhere," ~ Elie Wiesel
"It's all about creation," said my new friend, a brilliant scientist. That's when it hit me. The key to living a passionate life — creation with compassion.
When we fully witness the suffering of others and take the compassionate action that witnessing such suffering tends to inspire, we become a bright, brilliant beacon in the world and this gives our lives the true meaning and purpose that we so crave as humans.
Read more HERE…
And check out all of Dr. Mara's blogs in Thrive Global right HERE!