Missed the program?  It was awesome!  And you can hear it on podcast right here!

And you can ALSO listen on Apple podcasts right HERE! 
Dr. Michael Mascha, founder of FineWaters.com, and aficionado on waters from around the world, joined us to discuss WATER….from glass bottled to plastic bottled, international waters to American waters, purified vs. natural sources.  He has been on or program before, but with all that is happening in the world to put our water at risks, such as droughts and more, Michael gave us more insight into the world of H2O.  After you listen, water may never taste the same to you again!  
Check out Michael's website, FineWaters.com, to discover pairings of various waters with different gourmet foods and how to purchase waters from various natural sources around the world!  Also, you can purchase the new edition of his book, Fine Waters:  A Connoisseur's Guide to the World of Premium Waters, at his website.  Order your own box of various waters from around the world to do your own, at home, tasting, by going to SalaciousDrinks.com.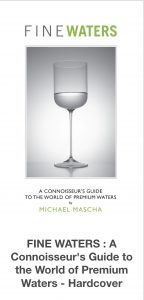 We also heard from our favorite twins, Ruben and Minerva from Mexico, on Mexico Travel!
And Dr. Mara with more about the journey of living a passionate life….now, what about all the critics?!
(Check out Dr. Mara's interview for the Ottawa Book Expo about living passionately:  Ottawa Book Expo Interview.)
Listen to the podcast right HERE!  And on Apple podcasts right HERE!