Missed the show?  It was AWESOME! And you can hear it all right here!

Quentin Vennie, Vice President of @yogaalliance Foundation, Mental Health/Social Impact Speaker, and Author of the book, Strong in the Broken Places: A Memoir of Addiction and Redemption Through Wellness, joined us once again!  This time, he discussed his book, about his journey overcoming obstacles and leading to his own health and wellness.  Quentin is now in Washington, D.C., where he is working hard to bring yoga into communities that have not had the opportunities bringing them to this practice that saved his own life.  Find out more about everything that Quentin is doing, read his blogs, and find out about his inspiring book, by going to QuentinVennie.com.  Quentin is also on Facebook, Twitter, and Instagram.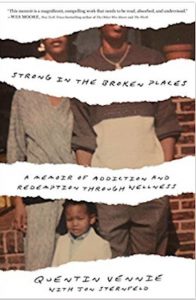 Producer of this program Art Mendoza filled us in about the video he just produced, Backwards On Purpose with fellow artists Kim Session and Tomas (The Jazzmanian Devil) Ramirez at El Mercado in Austin, Texas.
Michael Gill, Texas Senior Living Locators, joined us from Austin, TX to discuss the various levels of senior living and how to make a choice for your loved one.  You can find out more about Texas Senior Living Locators and contact Mike at:  TexasSenorLivingLocators.com.  You can also call him (512-630-7133) or e-mail him (mgill@texassll.com).  Mike can guide you through the chaos of finding the right living situation for you or your loved one, even helping you to sort things out and find organization in the midst of a chaotic emergency.  The advantages of his help is that he will not share your information, so that you won't receive endless marketing calls from facilities and senior living companies, he can help you figure out the right level of care, he can refer you to a myriad of services you might need, and he is aware of the many various communities in Austin.  If you're not in the Austin area, he recommends that you find a locator service like his wherever you live.  You can ask home health agencies or assisted living communities in your area for a referral for such a locator service.
Dr. Mara with another sneak peek into her book, The Passionate Life: Creating Vitality & Joy at Any Age with the beginning of a discussion of the Benefits of Compassion:  to Save Ourselves and the World We Live In, to be continued on the next show! 
Listen to the podcast right HERE!