Thank you to guest blogger, Rae Steinbach!
5 Things to Consider When Choosing Care for Aging Loved Ones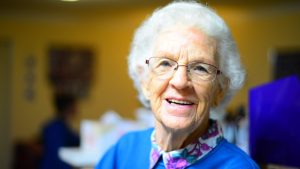 by Guest Blogger, Rae Steinbach
As loved ones get older, they may reach a point where they require help from a caregiver to live independently. Choosing the right caregiver for your family member is crucial. You want to be certain you hire someone who has the qualifications and personality they need to have a strong, positive relationship with your loved one.
With nursing home abuse on the rise, you may be weary about finding a nursing home or caregiver for your loved one. However, these tips will help you find the right care for them. Keep the following points in mind during your search:
Determine Your Needs
Different people require different types of care in their old age. Some people simply need assistance completing basic daily tasks. Others may need some form of regular medical care. For others, it may be important to have someone nearby who can protect them from falls and other accidents. By taking the time to determine exactly why your loved one needs a caregiver, you can more easily find the right provider.
Get Input from Everyone
Don't forget there may be other family members or friends who are invested in the well-being of your loved one. Involving them in the decision can make the process of finding a caregiver much simpler. When others have the freedom to participate, you're not responsible for completing every step on your own.
Set a Budget
Making sure your family member gets proper care in their old age can already be a stressful experience. Don't take on more stress by hiring a caregiver you can't afford. Research what you should expect to pay, and realistically set a budget accordingly. You want to hire someone you can depend on, but you also don't want to saddle yourself with an unnecessary financial burden.
Ask Tough Questions
When speaking with someone you may consider hiring, remember that you're interviewing them for a job. Asking the right questions is key to finding the right caregiver.
You should ask about their driving and criminal record, of course, as well as past experience, but you should also learn about difficulties they may have experienced working with others in the past. They may not be the right fit for your needs if they've clashed with others whose personalities matched that of your loved one.
Speak with Your Loved One
Finding a caregiver for a loved one can be a complicated process. You might get so deeply involved with the many different steps in of the process that you forget to solicit input from them.
Make sure you're speaking with them throughout your search. While they may be reluctant to hire a caregiver at all, you at least want to be certain they aren't completely uncomfortable with the person you end up choosing.
Again, this is an important decision. Rushing through the process isn't smart in the long run. To truly find the right caregiver for your aging family member, take your time, and remember these tips.
Rae Steinbach is a graduate of Tufts University with a combined International Relations and Chinese degree. After spending time living and working abroad in China, she returned to NYC to pursue her career and continue curating quality content. Rae is passionate about travel, food, and writing, of course.