Dr. Mara's latest blog in Ariana Huffington's ThriveGlobal.com:

My Lessons from the Texas Snowpocalypse
Read HERE: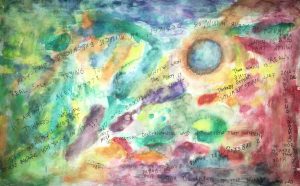 Image by Jonathan J Levine, The Channeling, 2007, ©JJLevine. All rights reserved. Image info, Artist info.
Also in Medium.com….Read it HERE!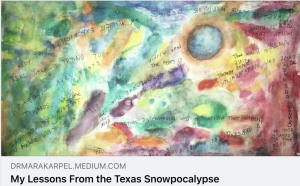 "Peace requires us to surrender our illusions of control." ― Jack Kornfield
As I write this on February 15, 2021, it's now been over 27 hours since our power went out. Not only has there been no electricity or internet, but also there has been no heat or ability to cook. Normally, in Texas, that would be an annoyance but not a very big deal. But the world has gone haywire, and 2021 has been extension of the bizarre 2020. We are having colder weather here in Central Texas than my friends and family up in New York State. The temperature dipped down to 9 degrees during the night outside; while inside the house, we were greeted by temperatures in the low 50s and possibly high 40s. To make matters worse, we woke up to 9 inches of snow on top of treacherous ice. A three-hour reprieve of power (and heat) lulled me into a peaceful sleep, confidently believing that all was well, only to wake up at 5:30 a.m. to a freezing cold house once again…..
I'm cold. It's dark. I can't go anywhere. But I have gratitude for what I have and who I have around me, both, next to me and far away, the people who warm me with love and support. I'm grateful that I'm still able to appreciate the frozen beauty outside the window, even when I'm feeling cold. I'm grateful that I can appreciate the light of the sun warming me when it shines through the window. And I'm grateful that I can laugh even when it hurts.
Read more HERE.…
And check out Dr. Mara's Internationally Best Selling Book, The Passionate Life: Creating Vitality & Joy at Any Age, now available on Kindle AND in Paperback!