Look Back at 2018 & Plan to B.E. — W.I.L.D. in 2019
Get on Track to Live Your Passionate Life
Dr. Mara's latest blog in Ariana Huffington's ThriveGlobal.com:
Look Back at 2018 & Plan to B.E. — W.I.L.D. in 2019:  Get on Track to Live Your Passionate Life
Read HERE!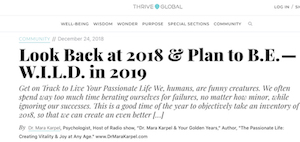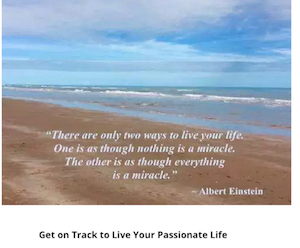 "There are only two ways to live your life. One is as though nothing is a miracle.  The other is as though everything is a miracle."  ~ Albert Einstein
We, humans, are funny creatures. We often spend way too much time berating ourselves for failures, no matter how minor, while ignoring our successes. This is a good time of the year to objectively take an inventory of 2018, so that we can create an even better 2019. And plan to B.E. — W.I.L.D in 2019 with our eyes looking forward toward living an even more passionate life.
Read more HERE…
Check out Dr. Mara's new Internationally Best Selling Book, The Passionate Life: Creating Vitality & Joy at Any Age, now available on Kindle AND in Paperback!
And check out all of Dr. Mara's blogs in Thrive Global right HERE!