Check out Kerri Hummingbird's interview of Dr. Mara on Soul Nectar Show!!  They discussed Dr. Mara's book, The Passionate Life: Creating Vitality & Joy at Any Age, and Dr. Mara's personal journey, discovering what it takes to live a passionate life!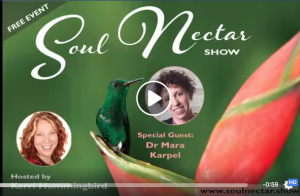 You can read about it and WATCH it all right HERE!
Also:  
#listen on iTunes: https://apple.co/2U72u1l
#watch at www.soulnectar.show
#watch on Youtube: https://bit.ly/2EipmWK .
AND you can listen and download right below!