Dr. Mara's lastest blog in An Idea by Ingenious Piece:
Listening to My Broken Arm: 
The Universe Will Stop Us in Our Tracks When We Are Out of Balance
Read HERE:
"The secret to living well and longer is: eat half, walk double, laugh triple. and love without measure." ~Tibetan Proverb
Breaking the humerus of your dominant arm is not at all humorous. But indeed, I did that four weeks ago.  I'm grateful for the deep lessons learned during this time.   Read more HERE…
Also in Passive Asset:
In Medium.com: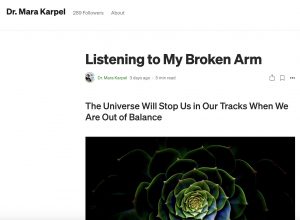 And in Sivana East: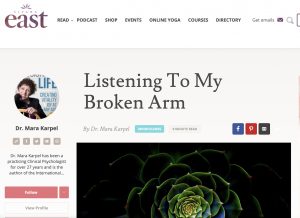 And check out Dr. Mara's Internationally Best Selling Book, The Passionate Life: Creating Vitality & Joy at Any Age, now available on Kindle AND in Paperback!