Here is another Facebook Live video, the fourth in my series about the pain and the magic of living a Passionate Life.  This time, the topic:  The Magic of Generosity and How is it Different from Compassion?   You can watch it right HERE on Facebook!
You can also watch it right HERE on YouTube!
Check out a blog that I wrote about The Benefits of Kindness and Generosity in 2017 for Ariana Huffington's ThriveGlobal.com.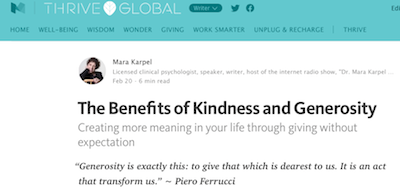 Wherever you are along this journey, whatever age, whatever stage, whatever state of life, it's the perfect place to start and I hope you'll continue to journey along with me.  
BTW, you can still check out my guide-book for the journey, The Passionate Life: Creating Vitality & Joy at Any Age, and be sure to stay tuned for my up-coming on-line course, Living the Passionate Life.  Meanwhile, tune in for more in my FB Live series! 
Be sure to listen my Blog Talk Radio show, Dr. Mara Karpel & Your Golden Years, on livestream (Sundays at 5pm CT/6pm ET) or ANY TIME on podcast, to hear from awesome experts with their tips on health, wellness, and living your best life!
And Stay Tuned for my next Facebook Live on Thursday, April 18 at 8pm CT/9pm ET right HERE!