Dr. Mara's latest blog in Ariana Huffington's ThriveGlobal.com:
Read HERE:
There's A Crack In the World: Lessons From a Life Well-Lived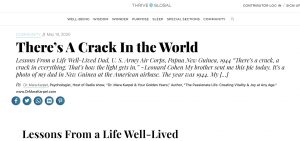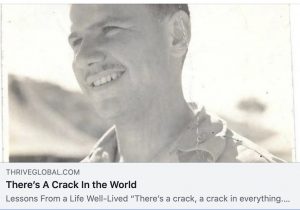 "There's a crack, a crack in everything. That's how the light gets in." ~Leonard Cohen
   .      My brother sent me this pic today. It's a photo of my dad in New Guinea at the American airbase. The year was 1944. My dad was just twenty years old and this was approximately twenty years before I came into the world. It made me think about how my dad used to always tell me that he was living on "borrowed time" because of all of the near-misses he experienced during The War.
     In reality, I never believed that he was actually living on borrowed time at all. It just wasn't time for him to go at each of those near-misses. He had a purpose and Dad was never afraid to live that purpose out loud. Those who knew him can certainly attest to that.
But, we're here. The reality is that, right now, at this challenging time on this Earth, we are all here. And if there's no deeper reason for us to be here, we have the ability to make a reason, to choose to create value right here, right now.
Read more HERE…