If you missed the show, it was AWESOME!  No worries, though.  You can hear the whole program right here!

We were joined from Philadelphia by, Professor of Education, Dr. Zakia Y. Gates.  Dr. Gates refers to herself as an Intentional, Trans-formative Culturally Responsive Social Justice Professor of Education because it explicitly outlines what she does for her students.  Dr. Gates discussed transformation, social justice, and diversity in education, as well as why irrational thought is now the "new intelligence."  For more information, about culturally responsive social justice in education, you can follow Dr. Gates on Twitter, on Facebook, and on LinkedIn.  And you can contact her for more info at:  DrGates218@gmail.com.
Art Mendoza, of Accomplice Entertainment and Producer of this show, joined us on this side of the mic to tell us about the events of Accomplice Entertainment Presents during Austin's SXSW music festival.  Hint:  He'll be producing some shows on March 20 and 21, including Dr. Mara's show to start off the events on Friday, March 20, and his own performance on Saturday, March 21, all at The Backstage (in the back of El Mercado on South 1st St).  
[Note:  Admission to Dr. Mara's show is free!  We will have 100 of her books to give away to audience members.  Please show up by 5:30pm on Friday, March 20, to be part of the show as an audience member!!]
And Dr. Mara with more tips on living the Passionate Life, even in times of stress with some words of wisdom on this topic from the Barefoot Doctor, from when he was on this show.  This show is dedicated to the Barefoot Doctor, who wrote the Foreword to Dr. Mara's book, and who passed away a week ago.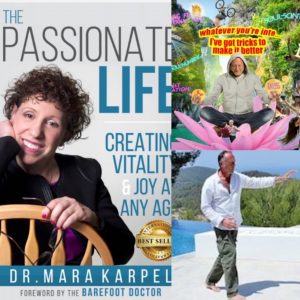 Listen to the podcast right HERE!
This show is now on Apple Podcasts and can also be heard any time after the show right HERE!