If you missed the show, you can listen to the podcast right here! It was great!

Rozena McCabe, Ph.D., CEO/Owner of Fitness for Brain, Body, & Balance, LLC, a wellness education company for successful aging, joined us to talk about physical activity and the brain AND about her new program, the Cognitive Therapeautics Method.  This is a very interesting method for helping adults with cognitive issues to slow down the progression of cognitive loss and even regain some functioning.  You can find out more about Cognitive Therapeutics by going to: www.CognitiveTherapeutics.com.  Find out more about setting up an appointment for your loved one to have an evaluation in Austin, by calling Home Care Assistance of Austin at:  512-623-7800.  You don't live in Austin?  Find out more about CTM in your part of the nation, by going to: www.HomeCareAssistance.com.  If you're interested in having Dr. McCabe come and speak to your group or if you'd like to find out more about her upcoming class on pelvic fitness for bladder control, call her at:  512-771-9284 OR send her an e-mail:  rozenamccabe@gmail.com.
Renee and Jim Oliphant joined us, once again, from Virginia, to talk about the release of their new CD and we played excerpts of some of the songs from the CD.  You can purchase their CD, called "RagTop," find out where they will be playing, and invite them to come play in your neighborhood, by going to: www.MyRagTop.com AND follow them on Facebook: www.Facebook.com/MyRagTop.  If you go to any of their upcoming shows and mention that you heard them on my show, they will give you a free signed CD!  
Laura Gelezunas joined us from the retirement paradise south of the border, Puerto Vallarta, MX, to fill us in on what's happening for retirees these days!  Laura let us know that there is a new retirement community opening up, called Front Beach Retirement.  Check out Laura's video series, "Recipes & Real Estate," and her other series, "Vallarta Life," at: TV Puerto Vallarta on YouTube.com.  Also, find out all the latest news for retirees in Vallarta, by going to: www.BanderasNews.com.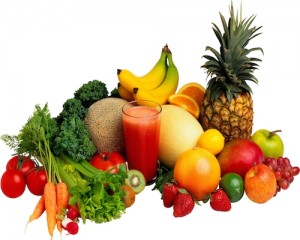 And, since September is Fruits and Veggies month, I spoke about the many benefits of fruits and veggies.  The Dietary Guidelines now say that these delicious morsels from nature should be the majority of what we eat all day!  The more the better!!  A recent study published in the Journal of Epidemiology and Community Health found that fruit and vegetable consumption was associated with a 25% decreased risk of death from cancer, a 31% decreased risk from heart disease, and a 42% decreased risk of death due to ANY cause!  Those are compelling statistics!  For the best health, eat the rainbow…eat a variety of colors of fruits and veggies in order to get a variety of phytonutrients in your diet.  For more info about the benefits of fruits and veggies and of a plant-based diet, stay tuned to this show!  It's a topic that keeps coming up!!
Tune in right here at THIS LINK to listen to the podcast of the whole show!