Missed the show?  It was another informative and entertaining show!  You can hear it all right here:
Elizabeth Castoria, former editorial director of VegNews and author of the new book, "How To Be Vegan:  Tips, Tricks, and Strategies for Cruelty-Free Eating, Living, Dating, Travel, Decorating, and More," joined us from San Francisco to talk about her new book and to give some tips for moving toward eating less meat and eating more plants, including how to do that while dining out, shopping, traveling, dating, going to parties, during the holidays…keeping it simple and light-hearted, maintaining good humor and good manners, even when faced with nay-sayers.  Here are a couple of resources Elizabeth gave to help with this journey.  While traveling, here is a resource for finding vegan and vegetarian-friendly restaurants all around the globe: HappyCow.net.  Here is another very comprehensive resource for healthy eating while traveling: TheHealthyVoyager.com.  To follow Elizabeth's information-packed blogs and to purchase her book, go to her website: ElizabethCastoria.com.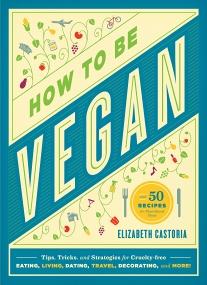 Matthew Berger, Musician, Educator, Expert in Percussion, and currently finishing his Master's Degree in Music Anthropology,  joined us from Portland, Oregon to talk about the Psychology of Rhythm and a little bit about Musicology… and we played some of the music of his band, with Matt on percussion.   To hear Matt's band, Musee Mechanique, and to purchase their CDs and get involved in their upcoming kickstarter for their newest CD, go to: MuseeMecanique.net.
Laura Gelezunas reported in from the retirement paradise, Puerto Vallarta.  She joined the discussion about Being Vegan and she let us know that, since she has become vegan 9 months ago, she has found Vallarta to be very vegan and vegetarian friendly.  There are all kinds of fresh fruits and vegetables, the supermarket has a whole aisle devoted to various types of beans, and restaurants have many vegan options and/or are willing to modify many of their menu items to be vegan.  In fact, this had become a way of making new friends, as Laura has joined a group through Facebook in Vallarta that have begun to meet for vegan potluck dinners!  You can find out more about the restaurants in Vallarta, as well as all of the other activities for the American retirees and visitors to Vallarta, by going to BanderasNews.com with information that is updated DAILY!
AND….It's National Great Outdoors Month, so I spoke about Getting Up, Getting Out, Getting Moving (& Getting Passionately Involved in Something) to Stay Healthy, Feel Good, and Stay Young!
You can listen to the whole show: RIGHT HERE